Catering, dresses, and cakes are important, but your wedding wouldn't be complete without your pet by your side. If you're looking for the best places for dogs in weddings in Seattle, you've found them. Check out our list of the best dog-friendly venues in the area.
Click on the venues in the map below, and scroll down for photos and more info.
---

12201 Avondale Rd. NE, Redmond, WA 98052
This serene, charming venue features a two-story barn and a brick silo, both built in 1917, along with restored outbuildings. Twenty acres of expansive lawns, a pond, and lots of wildlife complete the idyllic atmosphere. At this large venue, you can choose from an array of picturesque indoor or outdoor locations for your ceremony, reception, and photographs. Bostic Lake Ranch works with a variety of vendors for catering, flowers, and other essentials and can help you plan your perfect day.
Dogs are allowed throughout the celebration but should be under the care of a minder. Smaller dogs should be kept on-leash because of the eagles. Pricing ranges from $1,700-$4,200.
---
308 1st Ave. S, Seattle, WA 98104
This venue in the heart of Pioneer Square is suffused with history, art, and culture. Housed in the 122-year-old Globe Building, AXIS has 18-ft archways, exposed brick walls, and antique wood floors for a modern, chic, yet cozy experience. With 6,000 square feet, the ground floor can accommodate 250 guests seated or up to 400 cocktail style. The mezzanine is perfect for a bridal suite, band, DJ, or second bar and lounge area. This venue also has access to Nord Alley, which can be secured as a private space for your party.
AXIS welcomes dogs in weddings, but you must have a designated minder for your pet. If you'd like to let someone else handle that responsibility, you can find a Rover pet-sitter. AXIS allows you to choose from six caterers, and the staff will provide guidance on others vendors if you like. Pricing for this venue ranges from $2,800-$6,000.
---
7220 Woodlawn Ave. NE, Seattle, WA 98115
The Great Hall is a perfect canvas for you to create your perfect day. This historic 1921 building has two rooms with antique wood floors and moldings for a warm, vintage feel. The Ballroom with an elevated stage has 2,000 square feet of unobstructed space, and the Fireside Room has 700. The two are joined by wide French doors. While it is a historic space, you have the freedom to hang decorations throughout the venue, and the Great Hall is an open catering venue, not restricting you to preferred vendors. You'll have access to the bride's and groom's rooms and a kitchen that includes a sink, refrigerator and staging area.
Dogs are welcome throughout the venue and for the entire event, but must be kept on-leash while in the building. Nearby Green Lake Park is a perfect place for them to take a break from the action. You can find a Rover sitter to care for your dog if you'd like to focus on the celebration. Pricing ranges from $360-$2,400 depending on the day, hours, and the number of rooms rented.
---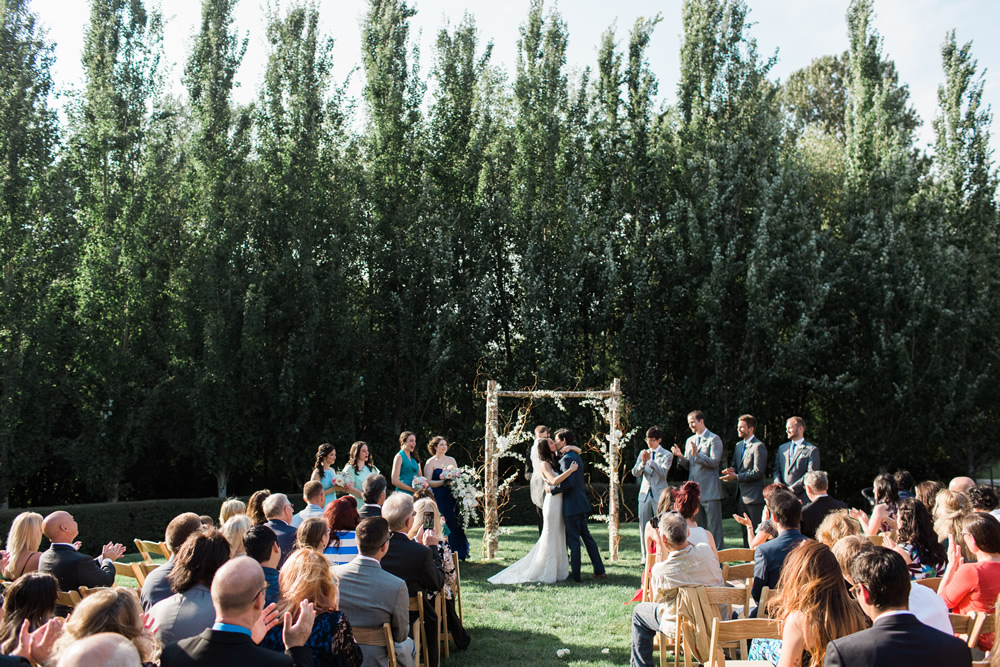 18525 36th Ave. S, Seatac, WA 98188
Cedarbrook Lodge sits on eleven acres surrounded by restored wetlands and is a secluded hideaway in a central location. You'll have a choice of spaces, an award-winning culinary team, and a premier hotel for your guests' convenience. Choose from two different indoor venues with floor-to-ceiling windows and wooden beams for a warm ambiance, or have your celebration on the Evergreen Lawn surrounded by the greenery of the Pacific Northwest.
Dogs are welcome in your wedding space but must be on a leash. They are not allowed in the restaurants or spa. However, there are a limited number of dog-friendly rooms if you are staying at the lodge. For a $50 fee, your dog can stay with you and will receive a Puppy Pantry menu, bowl, and treats. This venue offers two wedding packages which range from $1,900-$4,250 depending on the season.
---
1007 1st Ave. Seattle, WA 98104
The Alexis Hotel is an elegant venue for a sophisticated wedding. This premier urban hotel is in the heart of downtown Seattle, just blocks from Pike Place Market, the Seattle Art Museum, and Pioneer Square. If you take advantage of the hotel's room blocks, your out-of-town guests will have the glamour of the city, luxury services, refined interiors, and plush accommodations. There are no cookie-cutter weddings here. The hotel features a number of elegant spaces to suit your individual needs, and the dedicated wedding planner will help you tailor your celebration.
Your dog is welcome throughout your day, and if you are staying at the hotel, they stay free. The Alexis provides bowls, beds, and mats for pets. Pricing for this venue ranges from $13,000-$18,000.
For more helpful tips planning your dog-friendly wedding in Seattle, be sure to check out our Dog Wedding Guide.