As a brand, KONG is synonymous with high-quality pet products. That's why many dog owners turn to the Colorado-based pet accessories company when shopping for a harness, since, like their well-loved dog toys, KONG harnesses are known for being both functional and stylish.
Although they come in a variety of styles and colors and can make quite a fashion statement, the true purpose of a harness is to give owners more control of their dogs while out on walks and to help cut down on choking caused by pulling too hard on a leash.
They also prevent strain and injury to a dog's trachea. Harnesses are ideal for puppies who haven't yet learned to walk on a lead. Plus, they offer the advantage of being more escape-proof than a collar since they contain multiple points of attachment on a dog's body. However, unlike a collar, harnesses are not generally meant to be on around-the-clock and should be taken off when a dog is at home or at rest.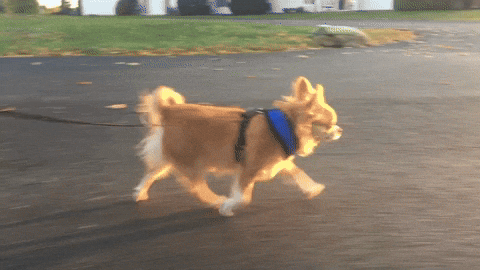 What makes KONG harnesses special are features like reflective material that serves as a visible walking aid for your pet and handles on the back of the harnesses that allow owners to better pick up their dogs or to grab ahold of them during a walk. Since comfort is often a key concern for pet owners, some KONG harnesses also contain thick inner padding in the right areas in order to avoid any chafing or irritation to your dog's skin. This ensures that your pet experiences the utmost comfort when wearing a KONG harness.
When selecting a harness for your dog, the most important step is to make sure you get the sizing correct. Instead of ordering a size based solely on your dog's weight, it's a good idea to measure your dog, using a tape measure and wrapping it around the broadest part of the canine's chest as well as around their neck. Since you don't want the harness to be too tight, add two extra inches to your measurements, and then use these measurements, along with your dog's weight, to order the size of the harness you need.
Before ordering a harness, you may also want to consider the following:
Safety and durability. First and foremost, is the harness a good fit for your pet? Is your dog comfortable wearing it? Beyond fit, you should also consider the material and whether it seems durable and long-lasting. If your dog is a heavy chewer, you may want to consider the harness' chew-resistance, as well.
Cost: While price shouldn't be the most important consideration in selecting a harness, finding one that's within your budget and will last your dog as long as possible is often a goal of cost-conscious pet owners.
Style: Your dog won't notice or care what color his harness is, but that doesn't mean you can't pick out your own favorite color. KONG harnesses typically come in vibrant solid colors.
Ready to shop? Take a look below at the four best KONG harnesses you can buy.
Available in three colors (red, dark green, and gray), this KONG padded harness has a neoprene lining to help make your dog feel as comfortable as possible while wearing it.
What we like about it:
The harness is made of strong nylon webbing with durable plastic buckles
Both the collar and chest straps are fully adjustable to ensure a perfect fit
A padded handle on the back allows you to grab or redirect your pet, if necessary
Reflective striping on the front of the chest panel makes the dog extra visible while out on walks
The wide front panel distributes weight more evenly to prevent chafing
Neoprene inner lining makes this one of the most comfortable harnesses KONG makes
Available sizes: Small to XL
Buy Now on Amazon
With four points of adjustment, this KONG on-the-go harness is an ideal harness for small, hard-to-fit dogs.
What we like about it:
The harness is made of lightweight paracord material
It's fully adjustable with multiple adjustment points
Simply place the harness over the dog's head to put it on
Reflective stripes help make your dog more visible in low-light conditions
Available sizes: Extra-Small and Small
Buy Now on Amazon
Simple to put on and ultra-comfortable while worn, this KONG comfort padded harness is a great option for an everyday harness for dogs of all sizes.
What we like about it:
The harness is padded on the inside for maximum comfort
A handle on the back makes it easier for pet owners to grab or hold onto the dog
Both belly and chest straps are fully adjustable
There is a strong D-ring leash attachment on the back
Available sizes: Small, Medium, Large, and Extra-Large
Buy Now on Amazon
This KONG reflective dog harness has a unique feature: a pocket on the back where you can store waste bags or another small item.
What we like about it:
The harness is fully adjustable with two metal buckles
The zippered pocket is the perfect size for storing a roll of waste bags—no need to clip them to your leash or carry them in your hand
A handle on the back of the harness allows pet owners to hold onto the pet directly, giving them more control
Reflective stitching helps make your dog more visible
Available sizes: Medium, Large, and Extra-Large
Buy Now on Amazon