Swimming is a great way for your dog to live their biggest life, and it's easy to see the joy on a dog's face when they're splashing into a body of water. But just like humans, many dogs don't come into the world as natural swimmers. Whether you've got a tiny lapdog or a massive mastiff, a timid land-dweller or a courageous adventure pup, here's how you can teach your dog to swim with confidence and enthusiasm. Start with a healthy meal packed with nutritious ingredients, and then get swimming!
Pro tip: bring food to motivate and encourage.
Your goal is for your dog to enjoy the water, and that means associating the water with good things—namely, tasty food! Food is the great motivator. Tuck a handful of your dog's kibble into your pocket and offer pieces as a reward throughout the process. Start when you first approach the water, and continue offering tasty bites as your dog follows your lead. We love Nature's RecipeⓇ Grain-Free formulas, which are easy to digest and packed with real protein and wholesome veggies.
How to teach a dog to swim
Introduce your dog to water first.
Your first goal when you're teaching your dog to swim is to slowly introduce your pet to the water. That means you should probably avoid throwing your dog into the deep end and hoping for the best. "It could be putting them in the bathtub, starting to fill the bathtub up with warm water," says Dr. Patrick Mahaney, a Los Angeles veterinarian and Certified Veterinary Acupuncturist.
Always start at the shallow end.
If you're training your dog in a pool, make sure you're starting in the shallow end at the stairs so they can slowly lower themselves into the water as they get comfortable.
Use food rewards to teach dogs the appropriate exit point.
"Once they're used to actually being in the water, standing or swimming, have them go to the one part of the pool where you want them to exit," Dr. Mahaney says. This teaches your dog where the safe exit is so they can learn to get out of the pool on their own. Again, be sure to bring plenty of food rewards to encourage your dog to go to the desired location.
Slowly increase the length of time in water.
Swimming is exhausting for dogs so you want to make sure you're giving your pet a healthy meal to fuel their activities before or after playtime. Nature's RecipeⓇ Grain-Free dry dog food starts with protein as the first ingredient—just what your dog needs before a big adventure.
Be sure you're not over-taxing your dog in the water. "We want to have it be a process that starts very mildly and over time," Mahaney says. If your dog isn't too wiped out after swimming, you can gradually increase the length of time your pet spends in the water next time.
Know your body of water.
Pools are handy, but pets can also be taught to swim in lakes, ponds, and even oceans. Natural water may even be easier for your pet to acclimate to. "In my experience, most dogs are more comfortable with going into the water through a gradual decline like at the edge of most lakes or ponds," Dr. Mahaney says. But you want to be careful that the water is right.
For example, how are the waves that day? Is the temperature too cold for swimming? Take these things into account and make a judgment call about how to keep your pet safe and whether you should return on another day.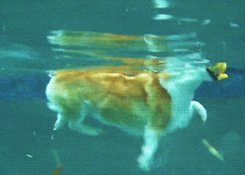 Look for swimming classes.
If you don't feel capable of teaching your dog to swim yourself, or if you don't have appropriate bodies of water to try it in, your local pet physical therapy clinic or dog trainers may have swim days where your pet can be taught to swim in a safe environment.
Consider a training life vest.
Safety first, of course, and a life vest can help your dog float while they learn to paddle. "Most dogs can tolerate them very well without any compression or affecting their mobility once they're in the water," Dr. Mahaney says. "[It] just allows them to float very pleasantly and not have to struggle in the process." He adds that some dogs may graduate out of life vests and others may be best suited to wearing them whenever they go in the water, "depending on their abilities and where you're swimming."
Keep your pet safe when they're not swimming.
"If you have pets that are seniors or they're sick or they have some kind of mobility compromise, you should think about putting a barrier around the pool so the dog does not fall in," Dr. Mahaney advises. You can also look into pool additions that can make it easier for your pet to get out of the pool, like the Skamper Ramp or PoolPup Steps. "[It] gives them something to grab onto and to pull themselves up," he says. Check out our guide to pool safety for dogs for more.
Special considerations
Swimming for squish-faced dogs
"Dogs that have brachycephalic airway syndrome — squish-faced dogs like pugs, English bulldogs, boxers, mastiffs — any breed that doesn't have a very long muzzle may not be able to perform quite as well or as long," Dr. Mahaney acknowledges. Pay close attention to your pet for signals that they've had enough of water play for the day.
Swimming for short- or dock-tailed dogs
A traditional long tail helps act as a rudder for dogs, so if they have a short tail or have had their tail docked, "they're not going to be able to navigate in the water as well, so they can be prone to sinking in their hind end," Mahaney says. A life vest can come in handy in these situations, plus lovingly acknowledging that the dog may not be signing up for any doggy triathlons.
And that's it! Feed your pet a healthy, nutritious meal to power their swim and then get ready to romp in the water.
_
Looking for more ways to fuel adventure with your dog? Check out ideas, tips and tricks at Nature's RecipeⓇ World of Wag.