Since the dawn of puppies, the smaller the dog, the larger the squee. We can only imagine breeders and/or dog people of old taking a look at large dog breeds and asking the big question:
"What would it look like smaller?"
The story of how small dog breeds came to be is varied and interesting; you can read more here. Not all small dog breeds are called "miniature," though, and we started wondering about the "mini" versions of bigger dogs. How does that work? Let's meet some of them—and find out how they came to be.
The Miniature Pinscher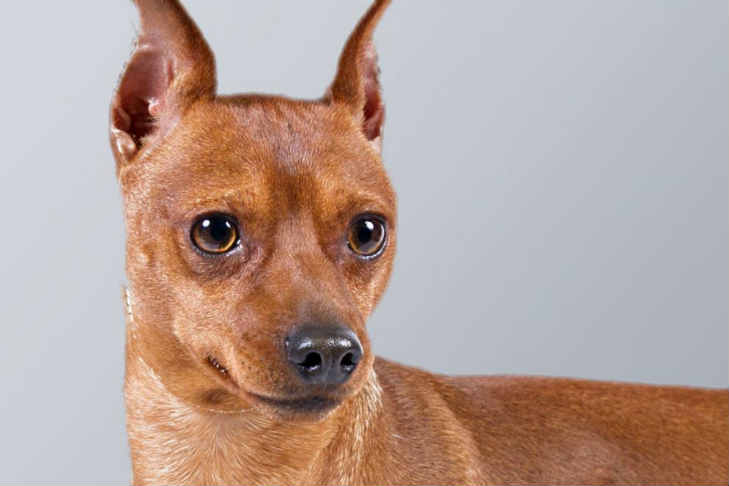 With its introduction to the AKC in 1925 the "min-pin" is the O.G. mini. And accordingly, he is known as the "King of Toys." He is fearless, and at times, way too self-assured. Although they look like the much larger Doberman Pinscher, the Miniature Pinscher is his own distinct breed, bred for ratting and companionship. He's of German origin, and likely has dachshund and Italian greyhound in his heritage. All hail the king!
The Miniature Schnauzer
Of the three Schnauzer breeds, the mini is the most popular (sorry, Schnauzer Plus and Schnauzer Classic). They are intensely obedient and loyal. With all the rugged good looks (and the eyebrows/mustache of someone who juices a lot) of the Standard Schnauzer and Giant Schnauzer, this little guy is the perfect size to take up permanent residence in your heart. They were recognized by the AKC in the 1920s, and likely started out when larger Schnauzers bred with the Affenpinscher.
The Miniature Bull Terrier
If you like the Bull Terrier, Netflix recommends the Miniature Bull Terrier. The differences? Aside from size, the Miniature Bull Terrier is a little easier to train, and less aggressive. They were only recognized by the AKC in 1991, making them relatively new to the Terrier Group, but they've actually been around as long as the Bull Terrier itself. In early days, this breed came in a variety of different sizes, and only later began to be standardized for a certain size. This mischievous breed is loyal, playful, and has enough energy for the whole family.
The Miniature American Shepherd
Even though it was just registered as an AKC breed in 2015, the Miniature American Shepherd is already the 36th most popular breed. They may look like the fun sized version of the largerAustralian Shepherd, but this breed is its own thing, mate! Their mysterious origin story takes us back to the 1960's, when a group of adorable, unregistered dogs showed up in California.
"Let's keep them this way," people probably said. And they did. So take that, Hugh Jackman. (This breed is often referred to as the "Mini Aussie," though, so I take back what I said, Hugh Jackman). This miniature breed has a lot of energy, but is right at home in the Herding Group with its intelligence and trainability.
The Miniature/Toy Poodle
This breed is not officially recognized by the AKC, probably because it's fine just riding around in purses and strollers. This mini may not have the noble lineage or frankly, dignity, of the Standard Poodle, but who cares. This breed's history begins in France. That's why you will hear them referred to as "French Poodles" sometimes, or the caniche, if you're fancy. Caniche means "duck dog." You go, duck dog.
Modern Miniature Breeds
You may have read about the Miniature Golden Retriever, or "Comfort Retriever," which has very recent origins in the dog breeding world. This is really a "designer" or hybrid dog, created by a reputable breeder by carefully crossing the golden retriever with the cocker spaniel and poodle over the years.
The "mini husky" is also known as the Alaskan Klee Kai, and has a similarly recent story that can be traced to a specific family who were interested in continuing to breed an "accidental" Husky / smaller dog mix.
Looking for a Puppy?
If you're looking for a miniature breed puppy, remember that plenty of mixed breed dogs are available for adoption who may not be called "miniature," but do represent a mix of smaller and larger dogs.
If you'd like to get a designer puppy, start by contacting reputable breeders and breed-specific rescue groups in your area. The best way to find a reputable dog breeder is to get a referral from friends, your veterinarian, or an official breed club in your area. The AKC website offers a guide and directory to find a responsible breeder.
Responsible breeders provide a healthy, loving environment for their dogs. They seek the same in a new family for their puppies. Responsible dog breeders:
Will introduce you to the puppy's parents and show you where they live
Will explain the puppy's vaccine and medical history and give you vet contact info
Will not have puppies available year-round; may keep a waiting list of interested families
Will answer any questions you may have about the puppy's background and care, as well as their breeding practices.
Will ask about you: your family's lifestyle, why you want this kind of puppy, how you will care for and train it, etc.
Will not use pressure sales tactics. Ethical dog breeders and rescue groups are not in it to make money. Rather, they believe in maintaining and furthering the breed, and finding a good fit for every dog.