Summertime shirts for dogs aren't just fun and stylish, they can also greatly enhance outdoor playtime and help protect pups from the elements.
Breathable, lightweight tanks and tees allow your dog to show some personality while staying cool. Many tees also offer UV protection. Even though their skin is largely covered by their coat, dogs can still get sunburns, which can cause serious skin damage. If your dog loves to swim, many shirts offer helpful features like rash protection and quick-dry technology. For an extra-cooling treat, try wetting the shirt before putting it on them.
No matter what your dog's summer needs are, there's a shirt out there that'll keep them cool, stylish, and comfortable. Here are the top 22 dog t-shirts and tank tops for summer: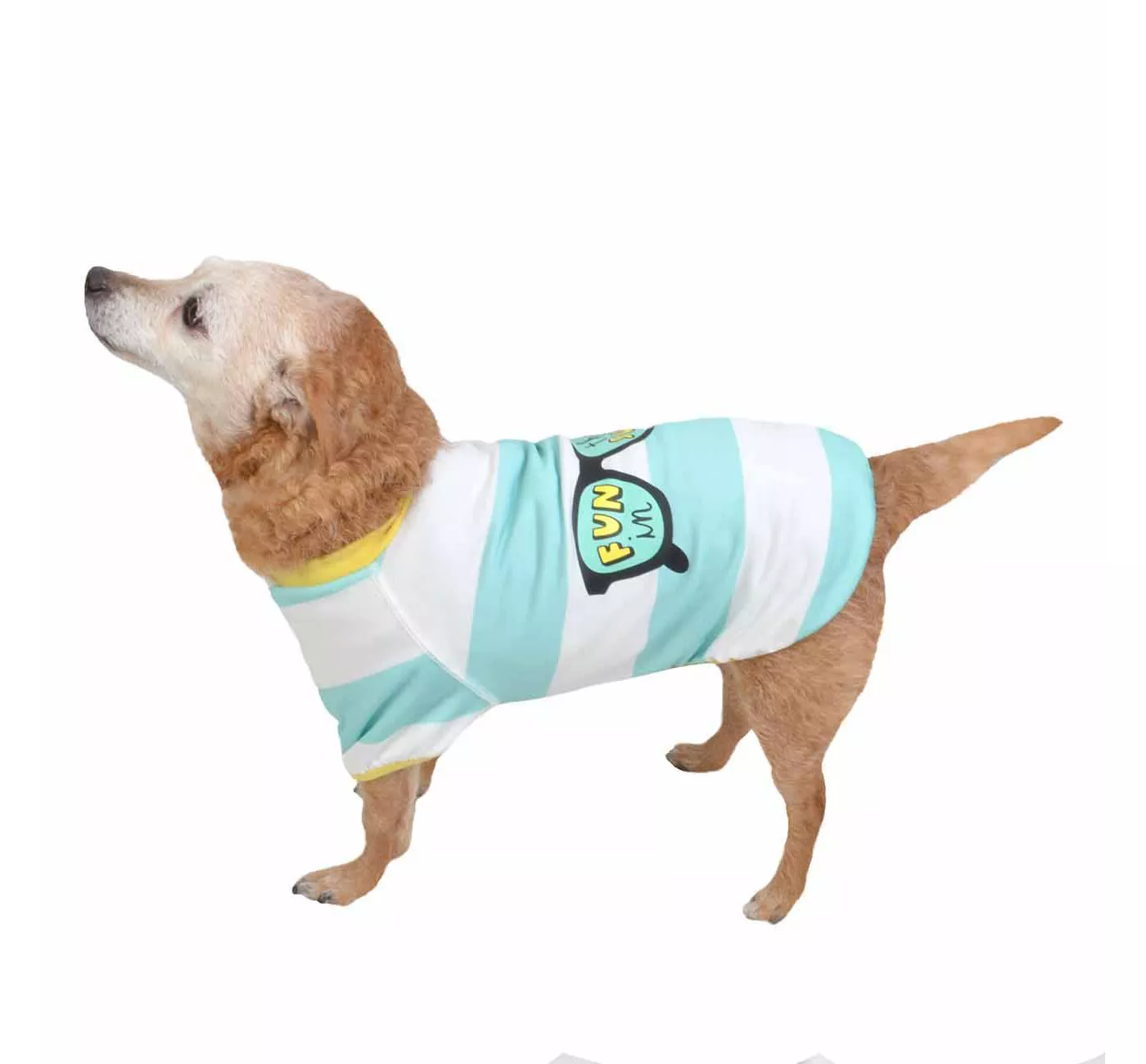 This summer tee isn't just adorable—it also offers excellent UV protection.
Buy Now on Target for $8.00
This shirt has a special UV coating and a mesh belly panel to keep your dog cool and protected.
Buy Now on Amazon for $21.99
Okay, this jumpsuit is admittedly a LOT of look, but at the end of the day, what's more stylish than being sunburn- and bug bite-free?
Buy Now on Amazon for $55.00
The cut of this sporty racerback tank provides a lot of breathing room to help pets stay—and look—cool.
Buy Now on Amazon for $9.39
Nothing says "summer" like a Hawaiian shirt! Lightweight, breathable mesh makes this shirt a more comfortable alternative to a traditional button-down.
Buy Now on Amazon for $10.99
This tank's super breathable mesh allows for maximum comfort, and the bright colors are perfect for summer.
Buy Now on Amazon for $9.99
Just like the classic ribbed tank for humans, these shirts are perfect for a hot day. They come in a wide variety of sizes and colors, too!
Buy Now on Amazon for $13.99
This fun summer tank has large front leg holes and a cheeky graphic that's sure to turn heads.
Buy Now on Chewy for $7.99
With a cute wetsuit-eqsue design, this quick-drying, UV-blocking shirt is sure to keep your pet cool.
Buy Now on Amazon for $34.99
Gold Paw's take on the sun shirt has excellent coverage to ensure your pup is protected.
Buy Now on Amazon for $42.00
PlayaPup has perfected the wet/dry summer shirt. It comes in plain white for a classic look, but there are plenty of other fun styles/colors. It also comes in male and female options to better fit your dog's anatomy.
Buy Now on Amazon for $24.00
]
If wild horses couldn't drag your dog from the water, this sun shirt is made for all day use.
Buy Now on Amazon for $30.00
This sporty top has special technology that helps keep odors at bay.
Buy Now on Chewy for $19.93
Add some khakis, docksiders, and a red solo cup, and no one will know your dog isn't a proud member of Kappa Gamma Tau.
Buy Now on Amazon for $16.58
Surf's up, bruh! Set your dog up to catch some sick waves with this wetsuit-style top.
Buy Now on Amazon for $23.97
Put your dog in this 90s-style sun hoodie and they'll be ready to hit the Peach Pit after a long day at the beach.
Buy Now on Amazon for $9.99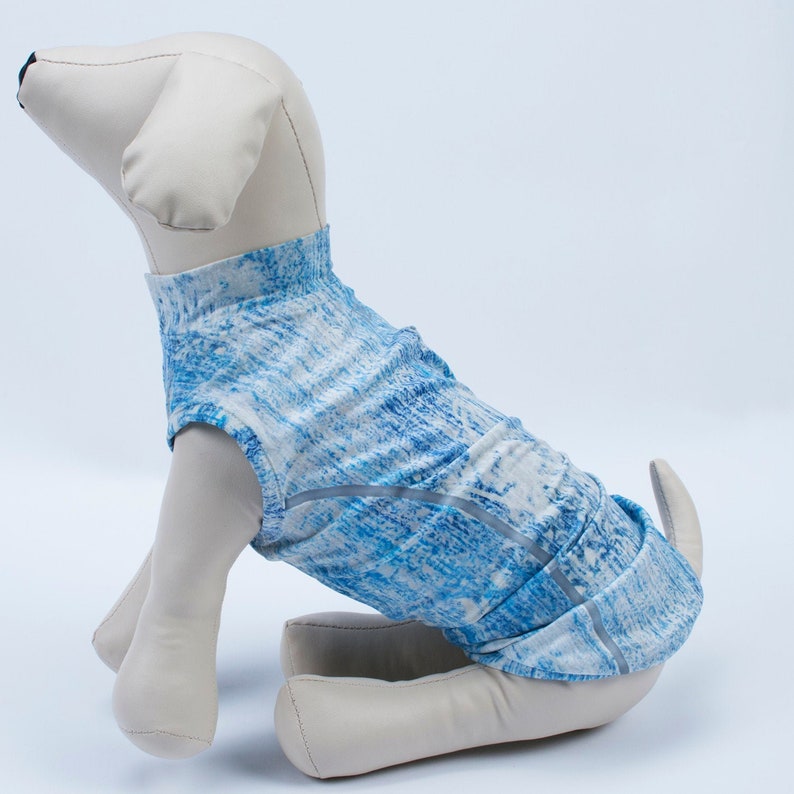 This chic sun shirt has a high collar to keep your pup's neck safe from harmful UV rays.
Buy Now on Etsy for $15.71
Similar to the PlayaPup sun t-shirt, this tank offers excellent sun protection and the lightweight material will keep your dog cool.
Buy Now on Amazon for $23.00
This shirt features a particularly unique design: a solid UV layer on top offers sun protection, while breathable mesh gives them some ventilation from below.
Buy Now on Amazon for $15.99
This super breathable, quick-dry tank is perfect for any summer adventures you have planned.
Buy Now on Amazon for $8.99
These tanks are 100% cotton to keep your dog cool and comfortable, and they come in tons of adorable styles and colors.
Buy Now on Amazon for $12.95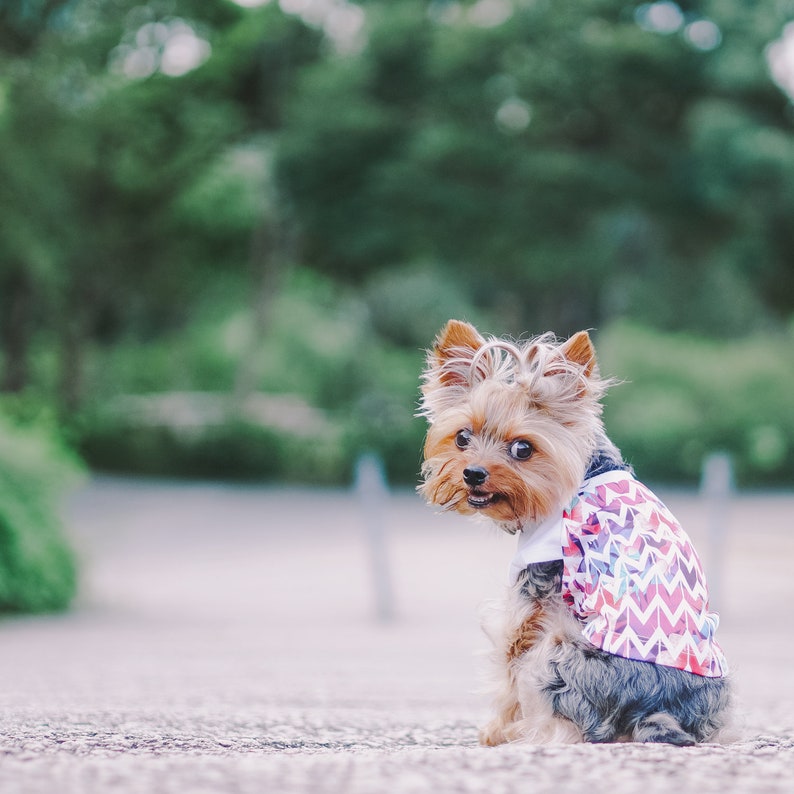 This stylish cooling shirt comes with a little waterproof baggy so you can easily carry it with you.
Buy Now on Etsy for $14.30
Further reading