Dogs thrive on high-quality food. According to pet nutrition expert and vet Dr. Gary Richter, author of the Ultimate Pet Health Guide, and member of Rover's Dog People Panel, "the single biggest thing you can do to keep your dog happy and healthy is provide them with optimal nutrition." For many dogs, that could mean a high-quality grain-free dog food. (Not sure if grain-free is right for your dog? Learn more with our deep dive into whether grain-free is right for your dog.)
But sometimes it seems like the best stuff costs far too much. However, it is possible to feed your dog a healthy diet on a budget. You just have to be a savvy shopper—and we're here to help!
Before we get to the list of brands, let's talk about how to identify a high-quality grain-free dog food. Different dogs may have different sensitivities and preferences, but in general, dogs need an appropriate combination of protein, fat, moisture, fibre, minerals, and vitamins.
Quality dog foods will contain easily-identifiable whole food ingredients and supplements. Ingredients to look for on the label include:
Whole proteins like chicken, beef, fish, duck, and eggs
Grain-free, or containing healthy whole grains
Healthy supplements like omega-3 fatty acids, glucosamine, and chondroitin
Healthy vegetables like sweet potatoes, peas, and carrots
Avoid ingredients like unspecified "meat," corn and other unhealthy grains and fillers, and artificial colours, flavours, sweeteners, or preservatives.
Note that meat meals can be a great, concentrated source of protein, such as chicken meal, but double-check the label for the source.
Quality ingredients sometimes cost more, but feeding a high-quality, low- or no-grain food means you'll be feeding your dog less overall. Plus, the health benefits of a good diet mean less time (and expense) at the vet. Over time, a quality dog diet adds up to a lot of savings!
Read on to learn about some of the most affordable grain-free dog foods on the market.
Harrington's makes wet and dry grain-free dog food which is available in a range of flavours: salmon and potato, turkey and vegetables, chicken and rice, beef and brown rice, and lamb and rice. They have added Omega 3 and 6 fatty acids, which are great for your dog's heart as well as their glossy coat.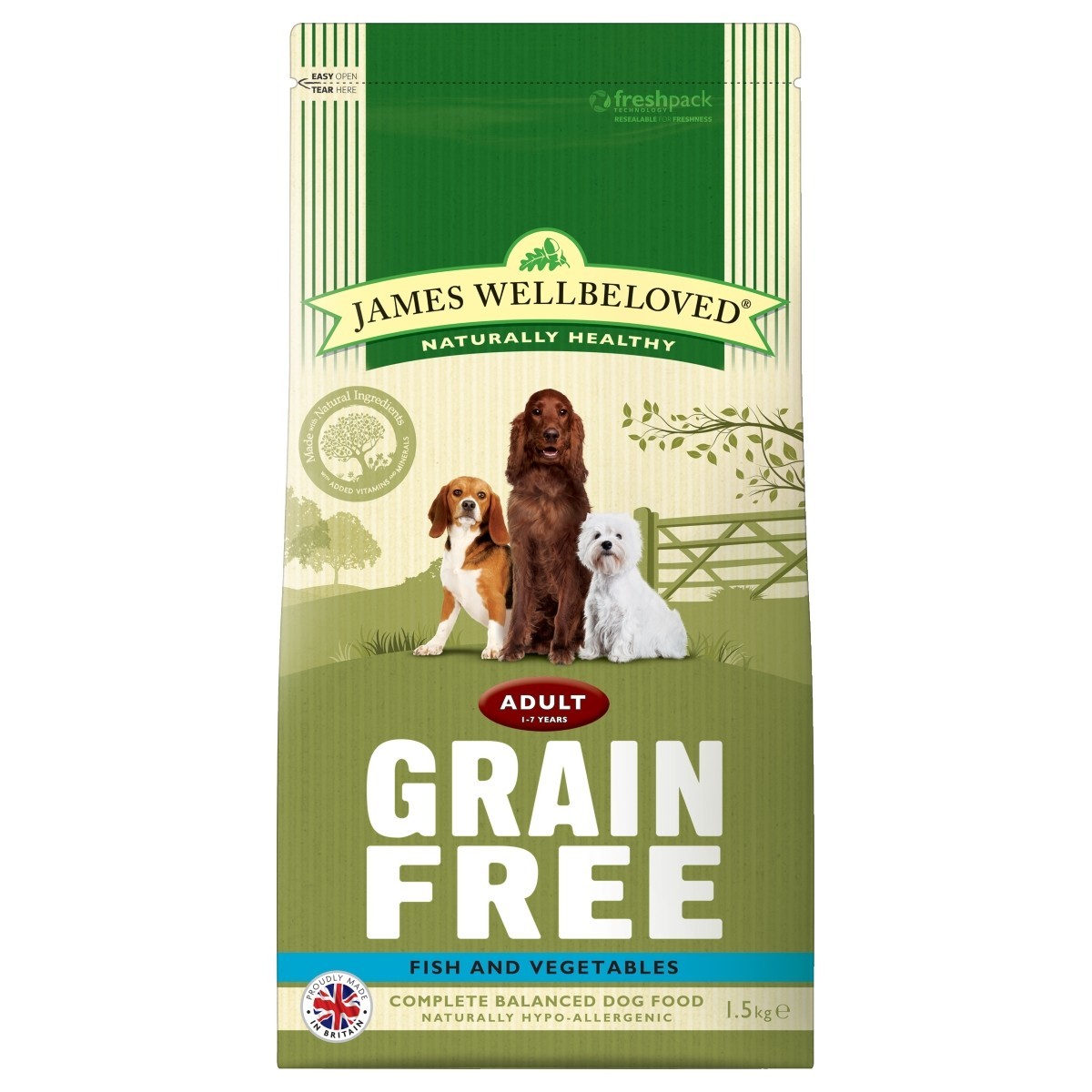 James Wellbeloved's grain-free dog food is hypoallergenic so it's great for dogs with sensitive tummies. It's made from a single meat source (fish, turkey or lamb) and has added vegetables to the mix, so your dog will feel nicely satiated after tucking into a bowl of this lovely stuff!
Orijen Adult Dog Food contains a healthy balance of meats, fruits, vegetables, and grasses. The formula is 85 percent meat, including free-range chicken and turkey, chicken liver, whole eggs, and fresh wild-caught fish. This brand includes just a limited amount of carbohydrates and contains both prebiotics and probiotics.
Forthglade makes 100 percent natural natural pet food wet food, dry food and dog treats in Devon. This option is grain-free, hypoallergenic and naturally low in fat plus it has a 90 percent meat content.
It's not the cheapest option on the list but this dog food contains freshly prepared chicken and duck as well as sweet potato. It also has added vitamins, minerals, Omega 3 fatty acids, and glucosamine and chondroitin which maintain joint and bone health in dogs. The brand has a variety of grain-free options so you're bound to find something that tickles your dog's fancy.
If your dog has an iffy tummy try this grain-free pork and potato dog food. It contains some lovely vitamins and probiotics and like all of the brand's dog foods, this option is hypoallergenic, free from wheat, and soya, and contains no artificial colours or flavours.
This all-natural dog food brand's number one ingredient is always fresh meat or fish. It also includes some lovely veg and probiotics to create a well-balanced meal. The range includes options for larger breeds, smaller breeds, and puppies.
Chef Rachael Ray's Nutrish brand makes high-quality, grain-free formulas that are particularly healthy. This salmon and sweet potato option is a great choice for dogs with protein and grain allergies.
The Best Options for Grain-Free Puppy Food
Pooch & Mutt's grain-free offering for puppies contains 48 percent chicken, supplemented with grain-free carbohydrates like potato and sweet potato.They've also thrown in a few superfoods including kale and spinach, plus a few antioxidants and probiotics for good measure.
Like all of Lily's Kitchen's products, this one's made with only freshly prepared meat—no meat meal, no bone meal, no rendered meat or any cheap fillers. This unique, grain-free recipe is suitable for dogs from 8 weeks to 8 months old. Depending on the size and breed, you may want to continue feeding your dog this recipe until they are 14 months old.
Featuring turkey and chicken as a lean source of protein, this grain-free recipe is formulated for puppies to control growth and promote musculoskeletal health.
More Money-Saving Grain Free Dog Food Tips
When buying grain-free dog food, shop around for the best deal, and keep your eyes peeled for special offers.
If you buy online, you can often get a discount on bulk or subscription purchases. And if you want to get really serious about saving money while feeding your dog the best possible diet, consider making your own homemade dog food with locally-sourced, whole-food ingredients. A little effort up front can mean huge savings in the long run, and more time with your beloved dog.
Before You Switch to a Grain-Free Diet
If you do decide to go grain-free, transition gradually between old food and new food. Start out with 90 percent old food / 10 percent new food and slowly alter the proportions until you're serving only new food. This will help your dog's digestive system adjust properly. Keep an eye on your dog's bathroom excursions during the transition and keep an eye out for diarrhea or constipation.
As always, it's a good idea to consult your vet before making changes to your dog's diet, and be sure to check the nutritional value on the label!
---
Concerns About Grain-Free Dog Food
Last year, the US Food and Drug Administration (FDA) started to investigate a possible link between some dog food brands and cases of canine dilated cardiomyopathy (DCM). More research needs to be done, and the investigation has come under some criticism but for now, it's best to check with your vet about any concerns.