Will take great care of your pooch
Book on Rover & receive:
Premium pet insurance
Our reservation guarantee
24/7 customer support
Green circle is the approximate location of "Will take great care of your pooch."
Green circle is the sitter's approximate service range
Legend
Available
Unavailable
Jason K.'s Availability
Jason K. provides
Home Sitting
Return Clients Only
NOTE
: This sitter is away and may not respond to inquiries.
100% response rate
Sitter responds to all requests within 24 hours
Around an hour
Sitter responds in around an hour
Description:
Married couple with 18lb mini-schnauzer named Oscar. We will take great care of your pooch while you're out of town.
We have lots of great reviews from past customers.

About Jason K.:
Seattle Dog Lover in Queen Anne
Additional Information
| | |
| --- | --- |
| Location: | Seattle, WA 98109 |
| Children at location?: | No |
| Num. of Spaces: | 1 |
| Cancellation Policy: | Moderate |
Acceptable Dog Sizes:
Small (0 - 15lbs)
Medium (15 - 40lbs)
Large (40 - 100lbs)
Giant (100lbs and above)
Accepts puppies
Loading Stay Photos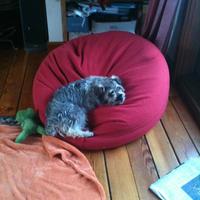 Oscar
Age: 3 years, 6 mo. old
Weight: 15 lbs.
Breed: Miniature Schnauzer
Oscar is a ridiculously sweet, cuddly, playful guy. He's some kind of mini schnauzer mix and is about a year to a year and a half old.
He gets along well with other dogs...he spends the day at work playing with other dogs (big and small).
He does not bark unless he sees a friend he is excited to play with. Then he may let out 1 or 2 barks, but otherwise is extremely quiet.