For dog owners, "country dog names" bring to mind a down-home lifestyle, with plenty of time spent in wide-open spaces. No matter where you live, a country-inspired name could be a good fit for an adventurous and spirited dog. So how do you decide on the perfect country name for your dog? Rover has you covered.
These names are handpicked from our Rover.com database of dog names. They're ranked in order of popularity from the top ten all the way down to names that barely squeak into the top 1000. Have fun and best of luck choosing the perfect name!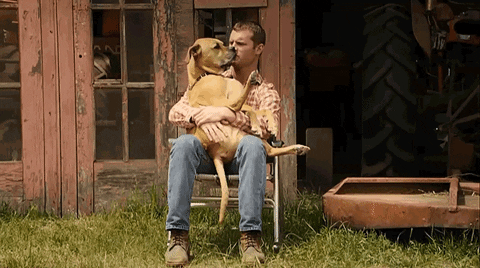 Top Country Dog Names
For Male Country Dogs
Charlie
Buddy
Cooper
Rocky
Bear
Duke
Toby
Tucker
Jake
Jax
Buster
Harley
Gus
Diesel
Cody
Bandit
Ollie
Sam
Moose
Marley
Shadow
Hank
Ace
Blue
Finn
Beau
Brody
Gunner
Koda
Rex
Tyson
Tank
Roscoe
Rusty
Hunter
Luke
Scout
Otis
Maverick
Boomer
Ziggy
Chico
Benny
King
Joey
Chance
Rudy
Ranger
Chase
Cash
Bubba
Champ
Zeke
Smokey
Mason
Chief
Oakley
Levi
Junior
Dallas
Ryder
Tennessee
Indy
Woody
Angus
Boone
Wyatt
Shiloh
Waylon
Sundance
For Female Country Dogs
Daisy
Annie
Molly
Sadie
Maggie
Roxy
Penny
Gracie
Ruby
Ellie
Lulu
Lady
Riley
Maddie
Cookie
Marley
Honey
Charlie
Angel
Willow
Missy
Dakota
Callie
Scout
Sugar
Trixie
Josie
Sassy
Gypsy
Katie
Allie
Paisley
Pixie
Misty
Sally
Dolly
Peaches
Lucky
Sage
Jessie
Frankie
Foxy
Sky or Skye
Summer
Sunny
Sierra
Rosie
Mabel
Tessa
Sheba
Jolene
Dottie
Lacy or Lacey
Clover
River
Cricket
Buttercup
Jenny
Emmy
Dixie
Jojo
Polly
Sweet Pea
Wynonna
Whitney
Mackenzie
Laney
Nellie
Cassidy (Cassie)
Loretta
Tips for Choosing a Country Dog Name
So how do you find the perfect country dog name? Think about personality—yours AND theirs. Your dog's name is going to be a part of your everyday life, which means that no matter your pick, you'll be saying it … a lot. What sounds best to your ear? What's easy and fun to say? Once you take your new dog's name from imagination to reality, it might help you narrow down your list.
Don't worry if you don't stick to your chosen theme, either. The best dog names fit the individual dog and make you smile. Because dogs are part of our family, and their names reflect what's important to us as well as our love for them.
For more inspiration and ideas, check out our list of unique names for dogs, along with top names for large breeds, funny dog names, and many more.