Rachel B. - You can travel with peace of mind
Book on Rover & receive:
Premium pet insurance
Our reservation guarantee
24/7 customer support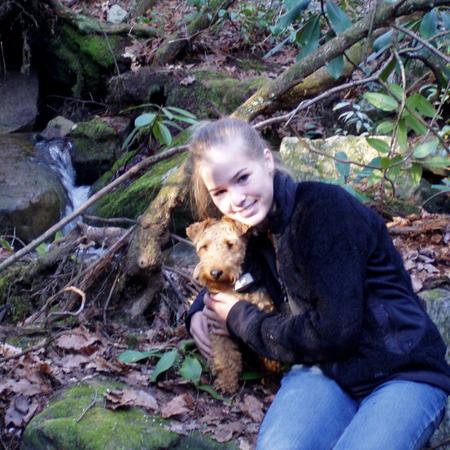 Green circle is the approximate location of "."
Green circle is the sitter's approximate service range
Legend
Available
Unavailable
Rachel B.'s Availability
Rachel B. provides
Traveling Dog Sitting
NOTE
: This sitter is away and may not respond to inquiries.
Hello, my name is Rachel! I'm 22 years old and a student at Agnes Scott College. I grew up with dogs, and have always loved having them around. Right now, I have two amazing dogs, an english setter named Maggie and a jack russell named Dippy. I know how it feels to leave your dog with someone while you go on vacation, and I know exactly how I would want my dogs to be treated while I'm gone. This makes me an exceptional pet sitter. I worked at an animal shelter for four years and a vet tech for one. I considered being a vet when I was younger, and have done a few observations in vet offices. My uncle is a vet, and is always willing to take my calls. I am extremely responsible, and have pet and house sat for many of the faculty members at my school. I'm excited to be able to spend some time with your dogs; it's something I miss when I'm here on campus! Message me if you have any further questions, and I can give you references.
Rachel B.'s Experience:
Four Years at the Mason County Animal Shelter
One year as a Vet Tech in Detroit, MI

How long have you been a dog lover? Tell us about your history with dogs.
I've grown up with dogs my whole life. I can't imagine living without them. I like the idea of pet sitting because it allows me to spend time with dogs while living in a dog-free dorm.
What would you like to know about a dog before sitting him or her? Do you have any breed preferences?
I don't have any breed preferences. I would prefer to know if your dog has any quirks; if it doesn't like to have its food bowl touched while eating, if it bites when you do something, etc. This will not deter me by any means, but I'd like to know!
Do you have reliable transportation in the event of an emergency?
I have a very reliable volvo that I am more than willing to transport dogs with in the case of an emergency. I also have a family member that is a vet so if I have any small questions (not enough to go to the vet) I call him to ask for advice.
Are you comfortable administering medication?
I am very comfortable. I'm the one in the household that administers the medicine, so I've been doing it for a long time.
Are you willing to do additional tasks at my home while I'm away
(e.g., water plants, bring in the mail)?
In addition to pet sitting, I've also house sat several times. I have no problem doing any other tasks you need done.
How much time do you plan on spending with my dog each day?
As much time as possible or as much as you'd like. I love to play with dogs and go on big walks with them. In addition, if you would like someone to be in the house in the evenings, as a college student I am very flexible with my schedule.
Loading Stay Photos
Testimonials
Rachel doesn't have any ratings yet. Rachel will receive ratings by completing more stays.