Maybe this list should be called 19 Best Gifts for Anyone, because who doesn't love Pugs?
These Pug gifts showcase just why people love these roly-poly love machines, and that's what #PugLife is all about.
Show off your Pug Mom status with this large cotton canvas tote bag—perfect for running errands or carrying your dog's gear.
Shop at the Rover Store
These festive cotton-blend crew socks come in red or green and feature a red-nosed Pug in antlers who bears a striking similarity to everyone's favorite reindeer.
Shop on Amazon
Make mornings better with the roly-poly cuteness of this 16 oz stoneware mug! As with most ceramic mugs, it works for microwave reheats (or just drink your coffee cold, we know how it goes).
Shop on Amazon
For those who love game night and Pugs, every space of this two-to-six player modified version of Monopoly is on theme, including "GO," which, in this case, says "GO PUGS!"
Shop on Amazon
This adorable hand-painted Pug in a holiday box makes the perfect present—one that can be enjoyed on the tree year after year.
Shop on Amazon

It's like "Lady and the Tramp," only with Pugs! These hand-painted, ceramic table salt and pepper shakers magnetically lip-lock together.
Shop on Amazon
This classy etched stemless wine glass is perfect for evenings where a pour of vino and a Pug are just what the doctor ordered.
Shop on Amazon

Relatable, funny, and so darn cute, social media star Doug the Pug is sure to bring a smile with every turn in this 18-month wall calendar.
Shop on Amazon
This vinyl Pug is more than happy to hold your bone—er, we mean pen—between uses. Perfect for the office or home workspace.
Shop on Amazon
Never mix up lunch bags again with this happy, intergalactic Pug print lunch bag. This insulated neoprene lunch carrier is also waterproof and machine washable.
Shop on Amazon
Tech-savvy, cute, and Pug, who could ask for anything more? This portable speaker connects with Bluetooth-enabled smart devices and comes with a convenient built-in battery that can be recharged. Grab two Pugs to really fill your rooms with sound (and, dare we say, style)?
Shop on Amazon

Illustrated by Gemma Correll, this funny novelty book features sweet Pugs offering life tips and lessons as only Pugs can do.
Shop on Amazon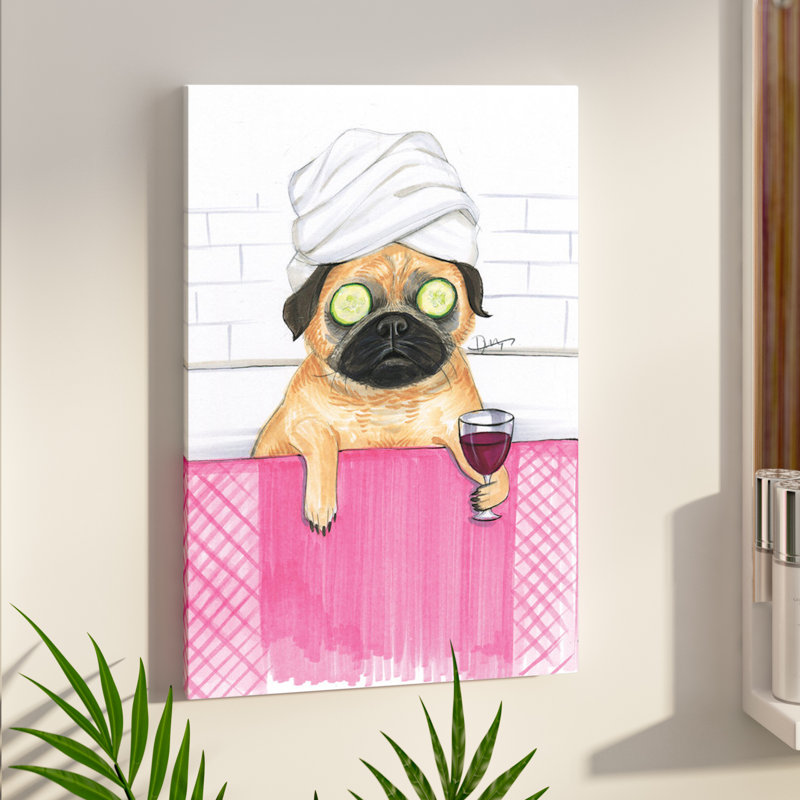 We know you know that your Pug is a total diva. Show off their big personality with this hilarious canvas made in the USA.
Discover on Wayfair

This charming Pug's tongue doubles as a handy tape measure. Use this flexible tape (which measures inches and centimeters) for clothing measurements, DIY projects, or any household project up to 40 inches.
Shop on Amazon

This silicone tea infuser makes for a cute companion during your tea time ritual. Easy to use, just fill with loose leaf tea, reassemble, then plop the Pug in a mug!
Shop on Amazon
If you can't get enough of Doug the Pug, opt for this fun coloring book. Color in Doug as he enjoys his ultimate pug life. Complete this gift with some snazzy colored pencils.
Shop on Amazon
This 11-ounce ceramic message displays a sweet message that will remind you why you work so hard.
Shop at the Rover Store

Send your Pug-loving friend a special message—and a little something extra—with this hilarious card that makes a Pug-like toot when you give it a squeeze.
Shop on Amazon
What Pug gift list would be complete without something to do with food? Store homemade dog treats or tasty human treats in this colorful hand-painted, earthenware jar.
Shop on Amazon
Further Reading
For more pet-themed holiday gift ideas, check out one of the articles below.