Dog-centric home with fenced in yard
Book on Rover & receive:
Premium pet insurance
Our reservation guarantee
24/7 customer support
Green circle is the approximate location of "Dog-centric home with fenced in yard."
Green circle is the sitter's approximate service range
Legend
Available
Unavailable
Eric C.'s Availability
Eric C. provides
100% response rate
Sitter responds to all requests within 24 hours
Around an hour
Sitter responds in around an hour
0% of stays
Sitter rarely sends photos through Rover
Description:
We have a fenced in back yard with plenty of room for dogs to chase and play. During nice weather we often leave door open so they can come and go as they please. Inside, dogs have free roam of all rooms in the house and are allowed on furniture (if you allow them at home). There are doggie beds around the house so they can lay down on something soft wherever they want.
My wife and I both work full time during the week. Our dogs entertain themselves during the day with toys and watching the world go by. However, because we work your dog should be comfortable without a human companion during the workday. It's up to you if they should be in their crate or not. Our dogs roam the house during the day with the radio on for some background noise.
We can handle up to 2 additional dogs but if you only have one dog, we won't have dogs another person's dog here at the same time. Therefore, you won't have to wonder how your pup will get along with other strange dogs.
About Eric C.:
My wife and I are both professionals - I'm a computer geek and Kathy does Physical Therapy. It's just us and our 2 dogs in our home. We've only had 3 dogs in the 16 years we've been together. Bear was my first dog and Kathy married into "our little family". We then adopted iDEN. Fritz came along after Bear passed away. All three dogs have been strays of some type - either from the pound, a farmers yard, or found on the side of the highway.
How long have you been a dog lover? Tell us about your history with dogs.
As a kid, my family would take care of other people's pets. When I was in college I got my first dog, Bear. He and I were great buds. After my wife and I got married she asked me what I would do if she discovered a dog allergy when we were dating. I told her (with a smile) it would be her or the dog and I doubt she'd like the answer. Since then we've had 3 family dogs. We've also given short term homes to stray dogs, helped find homes for pets, supported dog shelters, and volunteered time and equipment to help transport thousands of pounds of dog food to various shelters in need. We've had and taken care of all types of dogs - young, old, elderly, ill, dogs recovering from surgery, and dogs that needed extra special love or attention.
What would you like to know about a dog before sitting him or her? Do you have any breed preferences?
We have no breed preferences. Before booking your first stay with us, we'd like to meet your dogs and ensure they get along with Fritz and iDEN. The only traits that bothers them is if a dog continually shows dominance or can't figure out that iDEN doesn't like to play (she's an elderly dog - 16 years old!).
Do you have reliable transportation in the event of an emergency?
Yes - we have an SUV with plenty of room.
Are you comfortable administering medication?
Yes. My first dog had kidney failure and we had to do occasional shots and fluid administration. Another one of our dogs had bowel problems and required special attention. We've also had a dog that required daily medicine (pills).
How much time do you plan on spending with my dog each day?
My wife and I work and are generally gone from 9:00a to 6:00p on weekdays. Weekends are are around (expect when we're running errands). We like to go for a walk in the evening and then play or relax in the living room. Weekends and days off we spend relaxing and playing in the yard.
If you have a backyard, please describe it.
The backyard is mostly flat and is approximately 50 feet by 50 feet. It is fenced in with a 6 foot privacy fence. I've officially deemed it "Fritz-proof" as our shepherd has not been able to escape (and he's a bit of a Houdini!). It's solid and has no holes or escape routes for smaller dogs either.
Where will my dog sleep?
Your dog can sleep wherever it wants to. One of our dogs generally sleeps beside the bed and the other on the bed at our feet. Many of our visiting dogs choose to sleep on the couch or in their bed that we put in our room. Some visitors even decide they are more comfortable in our bed at night.
Where will you take my dog on walks? Tell me about it.
Your dog will go for walks around the neighborhood. We generally do one walk a day in the evening but can do more if your pooch prefers additional walks.
Additional Information
| | |
| --- | --- |
| Location: | Mountain View, CA 94043 |
| Children at location?: | No |
| Num. of Spaces: | 2 |
| Cancellation Policy: | Moderate |
TrustCloud:
TrustCloud verified

Email verified

Twitter follower

LinkedIn connection
Acceptable Dog Sizes:
Small (0 - 15lbs)
Medium (15 - 40lbs)
Large (40 - 100lbs)
Giant (100lbs and above)
Accepts puppies
Loading Stay Photos
Fritz
Age: 11 years old
Weight: 71 lbs.
Breed:
Fritz is an shepherd something mix that we picked up from the shelter when he was about 1 year old. We chose him because he came right out of his cage, leaned up against me, and quietly "talked" to me. He's very loveable and likes to cuddle especially in the morning. He likes to play occasionally, but as an older dog, it doesn't happy often. When he does play, he just runs or jumps in circles and barks at you if you're jumping or running around. He is very loveable and will lay right beside you in bed for a while if you invite him.
Fritz is not high maintenance and is happy just to be around people. He does bark occasionally, especially when there is commotion outside that he can see. He does not need regular walks. But, when he does go he will pull for the first 5-10 minutes. He's happy with any distance of walk - from a couple of blocks to 6 miles.
Fritz has 2 character traits you should be aware of. First, he will kill cats. As such, if you own a cat (or ferret, rabbit, etc...) please let us know as Fritz can't stay with you. Also, if you walk him and he sees a cat, you'll want to make sure you have a firm grasp on the leash. We make it a general rule to always have a leash on him if he's not in a fenced in area.
Fritz also likes to watch the world go by and let you know when someone (or something - like a cat!) is coming to your door. If there are blinds in the way, they could be torn down as he protects your home.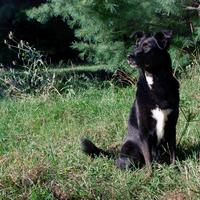 iDEN
Age: 16 years, 10 mo. old
Weight: 40 lbs.
Breed:
iDEN is a lab-something mix. She was found on the side of the road when she was a pup with her brothers and sisters in a plastic bag. Only iDEN and one other survived. She became the talk of the office where I use to work so we named her after our cellular network infrastructure.
iDEN is friendly, obedient, and well behaved. She really likes socializing with people and will pick one person that she follows to bed, around the house, and so forth. She's well enough behaved that she does not need to be on a leash when outside but if not supervised does like to explore and will slowly wander away.
iDEN really likes to play ball (aka, iDEN in the middle) and also likes to tug at your pants leg if you are play fighting. She is the peace maker and will get in the middle of people or dogs that are play fighting to break it up. Another favorite game of hers is to chase a laser light dot on the floor and walls.
iDEN like walks but doesn't crave them. When she does go for a walk, its usually 6 blocks or so. After that she starts slowing down and walking behind you - that's your clue it's time to head home.
iDEN knows all the basic commands and tricks (sit, stay, lay, shake) and will sometimes let you put food on her nose and not eat it until you say "Ok, you're free". (That's also the code word to get her to move after you tell her to stay.) But,with her old age pains setting in, we don't make her work for her treats anymore.
iDEN is an elderly dog and has elderly dog problems. She does have arthritis and you can see her uncomfortable as she sits and lays down. She also prefers to walk on carpet to prevent her feet from sliding out from under her. iDEN has bowel problems, primarily at night. She may involuntarily poop randomly. We have not found anything to cut down on this problem yet. We usually have to clean up after her in the house once a day. It is usually solid so it's a fairly quick cleanup job.
Lastly, iDEN really does like to be around people, a lot. She prefers to sleep in someone's room. She doesn't have to be on the bed, but that is where she sleeps at home.
Loading All Reviews
Testimonials